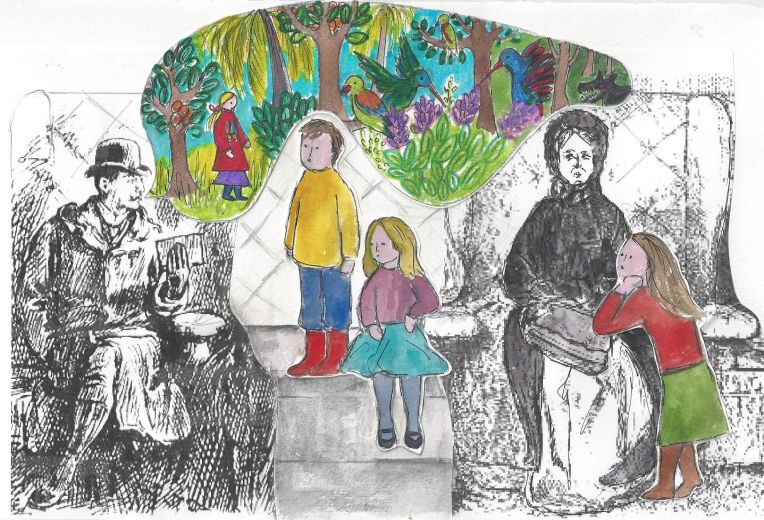 "You don't seem to be a success as a story-teller," said the bachelor suddenly from his corner.

The aunt bristled in instant defence at this unexpected attack.

"It's a very difficult thing to tell stories that children can both understand and appreciate," she said stiffly.

"I don't agree with you," said the bachelor.
There are some essential tips for storytelling contained in this short funny story about a passenger in a train carriage forced to endure three bored, noisy children. He does so by making up a story that is far more engaging than the story made for them by their harassed and weary aunt! The following can be learnt from the tale:
1.Be original but never moral:
"Was she pretty?" asked the bigger of the small girls.

"Not as pretty as any of you," said the bachelor, "but she was horribly good."

There was a wave of reaction in favour of the story; the word horrible in connection with goodness was a novelty that commended itself. It seemed to introduce a ring of truth that was absent from the aunt's tales.
2.Be aware of your listener's reactions; allow them time to absorb the details of your story and to create its world for themselves:
The storyteller paused to let a full idea of the park's treasures sink into the children's imaginations.
3.Introduce a dramatic event to hook your listeners:
Just then an enormous wolf came prowling into the park…

"What colour was it?" asked the children, amid an immediate quickening of interest.
4. Find an unusual or unexpected ending (Saki was the master at this!):
[The wolf] dashed into the bush, his pale grey eyes gleaming with ferocity and triumph, and dragged Bertha out and devoured her to the last morsel. All that was left of her were her shoes, bits of clothing, and the three medals for goodness. … 

"The story began badly," said the smaller of the small girls, "but it had a beautiful ending."
5. Don't expect everyone to love your story:
"A most improper story to tell to young children! You have undermined the effect of years of careful teaching, [said the aunt]."